New guests for your camp site!
"Camping in Europe" is now even more clearly arranged and more informative. Reach your target groups across Europe through a presentation entry on "Camping in Europe".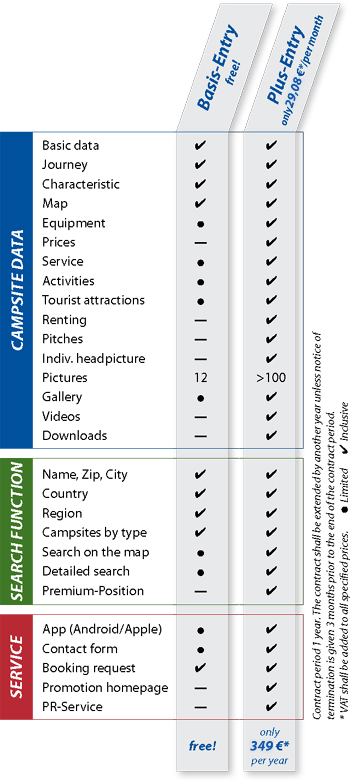 By means of a free "Basis" entry, you are able to present your campsite with its basic data and selected information.
Through a link, you can refer to your home page and present your site with a number of photographs. In addition, users will be able to find your campsite via several search mechanisms.
The "Plus" entry offers you many additional advantages:
your site will get a well-ranked and prominent position in terms of search results. Moreover, you shall be able to add videos and downloads (booklets, price lists ...) and up to 100 images to your campsite entry. Visitors can find you via the detailed search and send you a booking request directly online. In addition, it will be possible to find your campsite via many other search mechanisms, and you will have the opportunity to publish current information all around your site in the "News" section. 
The table shows the advantages of both entry types in a clearly arranged way.
The data are entered in a protected area in easily operated entry fields. You will be able to amend, update or correct the contents at any time.
If you have any further questions, the friendly team of "Camping in Europe" will be pleased to help you. Please feel free to contact us at +49 (0) 2274 70 60 20 or use our
Contact Form
.

register campsite